DORCAS CHIU

Dorcas is a Queer Asian fourth year student specializing in Theatre and majoring in English at the University of Toronto. Selected credits: Lysistrata in Lysistrata (WINDS), Sulla in Rossum's Universal Robots (Blameworthy Theatre), Madeline in The House of Bernadette Alba (Pure Carbon Theatre), Baht in PaperSERIES (University of Toronto), and Woyzeck in Woyzeck (UC Follies). When not found on stage, she can be seen directing, dramaturging, and stage managing various projects in the city. She recently interned for the Rhubarb Festival at Buddies in Bad Times Theatre, and is currently the Media and Marketing Manager for the UC Follies second year in a row. Her love for Greek plays is now infamous as she just made her directorial debut for Agamemnon with the UC Follies and will be directing Antigonick with UofT in December.

Favourite Classical Play: Right now, Dorcas is trying to fall in love with Antigonick all over again.


Powered by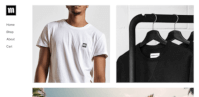 Create your own unique website with customizable templates.